Lucas Hood, second son of Jasper Hoed (Hood) and Cathrina Andries, alias Tyrntje Luykas, was baptized October 20, 1708 at the New York City Dutch Reformed Church, under the Holland Dutch spelling of his name as Luykas Hoed (Baptism, New York Dutch Churches, NY Biog. Gen. Society). He died about April 1771 in old Frederick County, Virginia, in what is now Berkeley County, West Virginia. His Will, written November 30, 1770, and proved May 7, 1771, filed in the records of wils, Frederick County, Virginia court house at Winchester, Virginia, identifies his wife Johannah, and eight of his known nine children.
Lucas Hood appears to have settled first in Readington, Somerset County, New Jersey, where records of his marriage to Johannah Van Stockholm and the baptismal records of their first two children are lodged in the Readington, N. J., Dutch Reformed Church (Somerset County Historical Quarterly, Vol. IV, pp. 300-302). In those records his name appears spelled as Lukas Hoed.
Aaron, apparently the first-born son and child, was baptized Oct. 31, 1742 at the Reading, N. J., Dutch Reformed Church. Jan (John), the next son and child were baptized at the same church, Feb. 3, 1745. Sponsors were Rynier Van Sichelin and Mersere. The Van Sichelin family had moved from Long Island, N. Y. to Jew Jersey. They are said to have been one of the prominent Holland Dutch families of Long Island. Johannah Van Stockholm was probably a relative, although her name, obviously patronymic, suggests that she was at least part Swedish.
It is indicated from available court records that Lucas Hood and family moved from Readington, N. J., first to Pennsylvania, probably in the general Philadelphia area. Whence they moved on south to the Shenandoah Valley section of Virginia, some few years following the death of his older brother Jan Hoed, then known by his Anglicized names as John Hood, who died early in 1742. The wording of Lucas Hood's Will suggests that he and his family were Quakers, as were his brother John and family. John Hood and family had settled in that part of Virginia, now Berkeley County, West Virginia, about 1733. In Book M. p. 451, in the index of original Northern Neck land patents in the Virginia State Land Office at Richmond, Va., shows that Lucas Hood Sr., of Frederick County patented 133 acres on Sleepy Creek, August 26, 1765. He is believed to have moved to Virginia much earlier than this however, and settled near the home place of his brother John on the upper Potomac River section of Back Creek in present Berkeley County, West Virginia. Although his present Jefferson County, West Virginia, then a part of Frederick County, Virginia. Following the action of his brother John, he Anglicized the spelling of his name to Lucas Hood, his sons doing likewise. He was commonly known as Luke Hood. There are many records fount in the Frederick County court files, as well as several adjoining counties, involving his name, and to some extent the names of his sons, John, Lucas, Jr., and Andrew. Berkeley County, now West Virginia, was formed from Frederick County, Virginia, as Berkeley County, Virginia, in 1772. West Virginia was formed as a separate state during the War Between the States.
Their son, Andrew Hood Sr., b. abt. 1745 m. Massa Suddeth. Andrew, Sr. had a son, Andrew Hood, Jr., b. 1784 m. October 19, 1807 in Greenup County, Ky. To Polly Cain. His brother, Lucas Hood, married Francis Winston Wills is the grandfather of General John Bell Hood. Andrew, Jr., had a son named Andrew Hood (known as Andy) b. May 20, 1810 in Greenup County, Ky., m. Emily Stewart. They had a daughter named Lucinda Hood who married Gabriel Penn Stephens. They are my great, great grandparents. (Tunis Hood Family Book)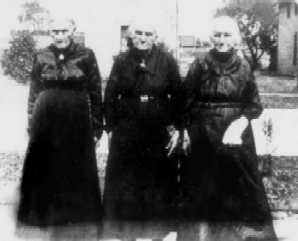 Polly, Lucinda, and Amanda Hood
For any information regarding above-mentioned people, please contact me
ron3626@wwd.net
.